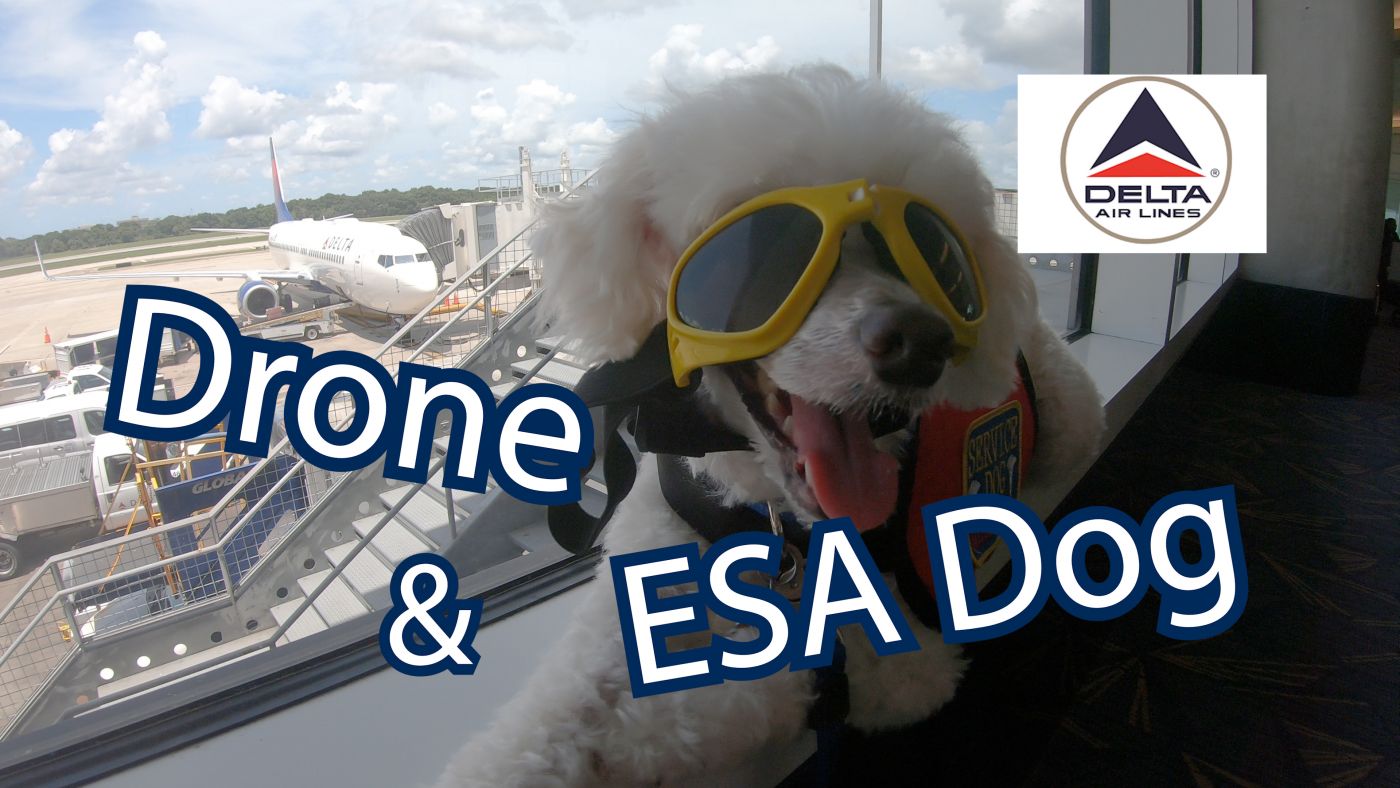 August 10, 2019 11:32 am
Comments Off

on Flying with Dog & Drone on Delta – Tampa to Minneapolis

​Today we travel with Drone and a ESA Dog from Tampa International Airport to Minneapolis St Paul aboard a Delta on a Airbus A320.
On our shooting aerials across the country I have always driven, but this time it will be a 12,000 mile journey so wanted to cut off atleast 3,000 miles by making 3 airline trips. It takes alot of equipment for what I want to do, so its a challenge having everything fit into 2 suit cases, but we did it.
It was a relatively painless process with Delta. Delta has about 4 forms you have to fill out and submit online. For a ESA you need a letter from a psycologist which is easy to get. Many online phycholigist will just do a phone interview, and will provide you a letter if you qualify for a ESA Dog. You also need a Shot/Vacination Record from your vet or just fill out the form and have your vet sign it. The other 2 forms are easy acknowledgement for that you can fill out and sign yourself. Im also carrying a Mavic 2 pro with 6 batteries. Although I didnt have individual shielded pouches for each battery, I did have a back pack that had slots for each battery. I also reccomend to tape over the terminals of each battery with electrical tape. When I went the TSA checkpooint they did ask if I had electronics so I told them I had a lap top and a drone in the backpack. They were more concerned with the laptop then with the drone. They opened up the lap top, but did not even open the back pack with the drone. The flight was full and all overhead storage was filled but was easily able to fly with drone and lap top at my feet and dog on my lap. Tampa Airport is always great to fly out of. They have been rated every year for the last 30 years as one of the top 4 most convenient airports to fly out of. As our home base very proud of TIA and the job they do.
It was a great flight, no issues at all with the dog, the Delta Flight Attentents were great. 3 hours after take off, we were flighting over the beautiful Mississippi River on our final approach to Minniapolis St Paul Airport. It is quite a walk from the Delta Terminals to backage on , but we made it. We picked up our bags bottom fly and the rental cars are on 2nd & 3rd Floor. We headed to Avis which is on the 3rd Floor.
This is just the beginning. Well be doing a biking video tomorrow and shooting aerial and ground footage of Minneapolis, over the weekend before we drop down to Milwaukee and Chicago and then head out west. We are Tampa Aerial Media, shooting travel and stock footage from Tampa across the USA.
Categorized in: Uncategorized
This post was written by Randy Markham